Hole 1 - Par 4 | Black 407 | Blue 389 | White 353 - Handicap 5
The hill on the left side of the fairway and bunkers make for an interesting tee shot. Find the landing area and players should have a lofted club to the green. The low area short and to the right of the green and small creek are bogey makers on what looks like an easy hole.

Hole 2 - Par 4 | Black 336 | Blue 311 | White 295 - Handicap 7
The partially blind tee shot from out of the trees needs to avoid the many sand traps for a chance at birdie. Water protects the green again as does the reason why this nine is called Water Place, or Birr. Again, find the landing area and you have a chance at birdie.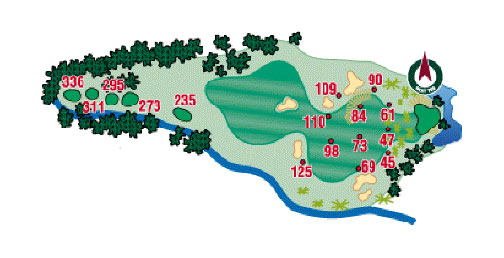 Hole 3 - Par 5 | Black 525 | Blue 489 | White 462 - Handicap 1
The toughest hole on the Birr greets you as a long water lined par five that narrows to the green. The narrow green is protected on both side with water and is approachable from a small landing area. This is a challenging golf hole.

Hole 4 - Par 3 | Black 166 | Blue 119 | White 116 - Handicap 9
Following the toughest hole on the nine is the easiest hole. This short par three Has trees, water, and sand in play but a well struck short iron should provide golfers with a chance at birdie. It's a nice view on a challenging short par three golf hole.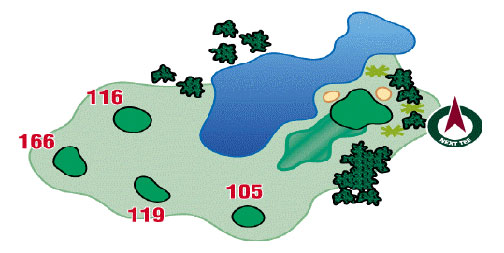 Hole 5 - Par 4 | Black 407 | Blue 381 | White 331 - Handicap 4
A dogleg right par four greets the golfer and is the only hole on the nine that does not have any water on it. A well-struck tee shot should provide for a chance at an approach with your favorite mid iron, maybe even wedge. It's a tough downhill shot to a green protected by plenty of trees.
Hole 6 - Par 5 | Black 517 | Blue 478 | White 438 - Handicap 2
Water protects the green on this tough dogleg left par five but first, you have to get your drive in position, big hitters can go too far or have a difficult sidehill lie. The sloping fairway rewards accuracy and accuracy rewards golfers with a chance at an approach shot with a lofted club. A nice, tough golf hole that can be birdied.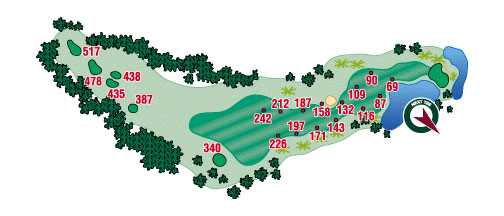 Hole 7 - Par 4 | Black 466 | Blue 430 | White 412 - Handicap 3
This long sloping par four often plays into the prevailing winds making it play much longer than it already is. The left to right angle of the fairway is accentuated as it gets closer to the ponds, helping to gather errant shots. This is a good test of the golfer's skill and one that rewards controlled power.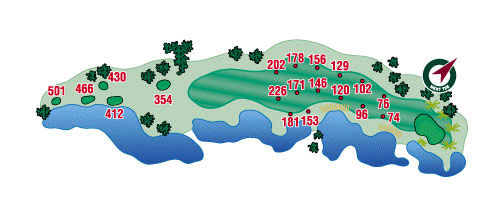 Hole 8 - Par 3 | Black 176 | Blue 140 | White 129 - Handicap 8
The small well-protected putting surface makes any green ball worth a "high five". Any ball off the green makes for a difficult "up and down". The large sand trap and gathering area that front the green are difficult to chip from especially with water behind. Your first shot determines whether it's an easy hole or not.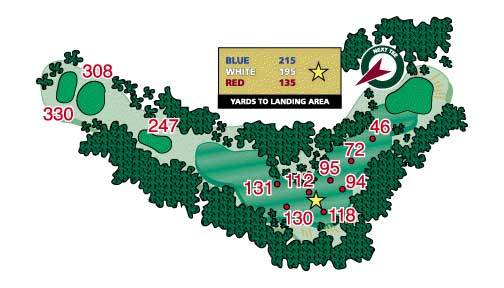 Hole 9 - Par 4 | Black 408 | Blue 377 | White 350 - Handicap 6
The tee shot once again is premium on the shorter par four dogleg left. The pond, creek, barn, hills, and sand are all in play from the tee box. The tiered green is also protected with sand bunkers in front and a tough slope and long grass behind it. Another nice finishing hole no matter what point in your round you are in.