Hole 1 - Par 4 | Black 372 | Blue 364 | White 323 - Handicap 6
One of the straighter holes on the course, keep it out of the fairway bunkers and away from the trees off the tee for a chance at par or better. A nice opening hole to your round or back nine, welcome to The Meath.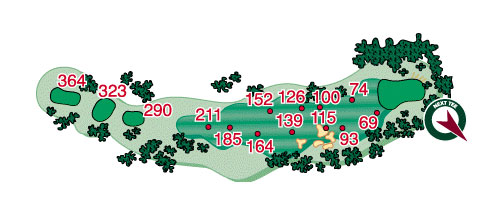 Hole 2 - Par 3 | Black 202 | Blue 195 | White 160 - Handicap 8
A well-protected green makes this par three no easy task. Find one of the sand traps and you are in potential bogey territory. Don't go long either! A good test of golf skills, this is a nice par three golf hole.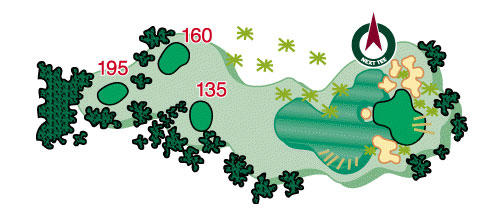 Hole 3 - Par 4 | Black 278 | Blue 273 | White 235 - Handicap 7
This short downhill par four has been aced, but water makes for a daunting tee shot for those seeking the green. A fairway wood or iron may be a better choice from the well-elevated tee box setting you up for an approach to a green protected by both sand and water. A good tee shot makes for an approach with a lofted club.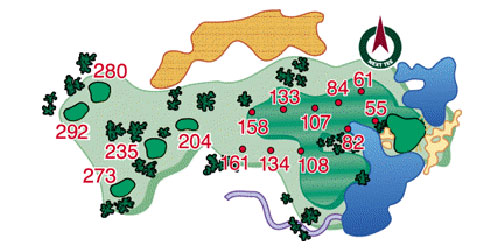 Hole 4 - Par 4 | Black 340 | Blue 336 | White 302 - Handicap 5
Water comes in to play on the tee shot of this fairly short par four. Playing to your favorite approach club should give you a chance at birdie. Enjoy the view and keep it in the fairway. The shape of the green makes for some interesting pin placements.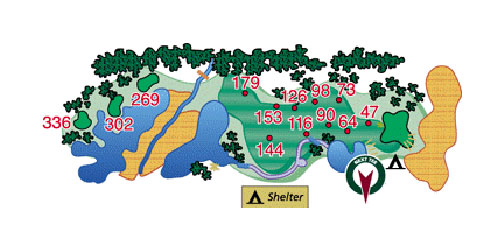 Hole 5 - Par 4 | Black 440 | Blue 434 | White 387 - Handicap 3
This tough par four is narrow and has a slight left to right layout. Trees and out of bounds to the left make for the number 3 handicap hole on this nine and a particularly tough hole for mid handicap golfers.
Hole 6 - Par 5 | Black 547 | Blue 541 | White 498 - Handicap 1
The long dogleg left is the number 1 handicap hole on The Meath and a true test of golf. Trees, sand, elevation, length, and water all come in to play. It actually may even be considered a "double dogleg as it winds right before a sharp left to the putting surface.

Hole 7 - Par 3 | Black 149 | Blue 144 | White 129 - Handicap 9
With the water behind you, for the time being, sand and trees protect this short par three, the easiest hole on the nine. After two holes of tough golf, this par three should be a nice change of pace, but it's no gimmie.
Hole 8 - Par 5 | Black 494 | Blue 487 | White 460 - Handicap 2
Back to the dogleg left with a blind tee shot, trees, water, and sand all in the mix. The only reason it's not the number 1 handicap hole, is because hole six is longer. This hole favors those who can hit a draw from the tee box and rewards accuracy and shot making. Because of its length, this short par five can be a birdie opportunity, but it takes three good shots and a putt.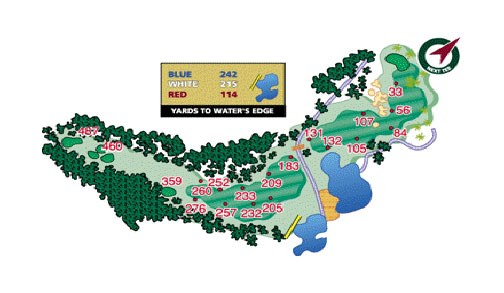 Hole 9 - Par 4 | Black 411 | Blue 405 | White 362 - Handicap 4
A straight forward finishing hole with sand protecting both sides of the narrowing fairway. Players playing to their appropriate tee box will usually be hitting a mid-iron to the sloping green. Whether finishing your round or mid-way, you will have enjoyed your trek around the Meath.